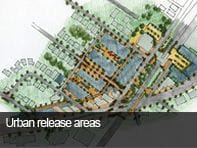 Recent Projects
Rezoning of former Quarry Land, Exeter, Wingecarribee
Western Sydney Parklands Bungarribee Precinct, Doonside
The key to planning and design of urban release areas is to create sustainable new communities and urban environments through a comprehensive approach, with stakeholder involvement to address the range of social, economic and environmental planning issues. This includes transport infrastructure and access to services and facilities, social infrastructure and recreational opportunities, and utility services infrastructure. It also requires careful planning around environmental hazards such as bushfire, flood and land instability, and appropriate urban design responses to build on environmental attributes such as visual landscapes, biodiversity and heritage values.
The Planning Group NSW understands that sustainable outcomes for new release areas cannot be achieved by developers or Council alone. Active collaboration between business, governments and the community is imperative.
This is achieved through an approach called Precinct Planning which coordinates planning and delivery of water, wastewater, recycled water, power, roads, transport and other services in time to service new communities.
TPG NSW provides a tailored and pragmatic approach to the design of urban release areas. By combining our understanding of State Environmental Planning Policies (SEPPs) with our network of specialist disciplines, we provide a holistic planning solution that incorporates urban design, engineering, land economics, environmental sciences, social planning and communications.
TPG can provide the following services in the planning and development of urban release areas:
Strategic planning services in the preparation of planning studies and strategies and planning proposals for rezoning applications.
Urban design services utilising the design expertise and resources of the TPG Perth Office for master planning of urban release areas and development control plans.
Development planning and assessment services for urban release areas and staged master plan development applications.
Community and stakeholder engagement which may include notifications, public information sessions and exhibitions, workshops and meetings, consultation and negotiation with planning authorities, and review of public submissions.
Project planning management services to procure, co-ordinate and manage comprehensive project team of specialists needed in strategic planning projects and in the planning stages of development applications.