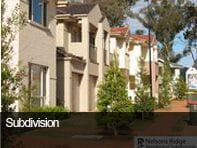 Recent Projects:
Western Sydney Parklands Bungarribee Precinct, Doonside
TPG NSW has extensive experience in the planning of land subdivisions, strata subdivisions and community title subdivision.
We understand the statutory planning framework, the design and titling issues associated with subdivisions including staging, urban design and civil works and infrastructure issues relating to land subdivisions and the particular common property, management and three dimensional aspects of stratum, strata subdivisions and community title.
We are conversant with government planning legislation and statutory instruments and hold good working relationships with specialist consultants involved in subdivision projects including surveyors, engineers and lawyers.
TPG has the skills and experience in working with planning approval processes and authorities to gain approvals for subdivisions and can provide the following services in the planning of subdivisions:
Strategic planning and urban design services in the staging, design and layout of subdivisions for various land uses and property sectors including housing and business / industrial parks;
Development planning and assessment services including the preparation of development application documentation for planning approval;
Due diligence planning advice to assist in assessing suitability and feasibility of subdivision projects;
Community and stakeholder engagement which may include notifications, public information sessions and exhibitions, workshops and meetings, consultation and negotiation with planning authorities and review of public submissions; and
Project planning management services to procure, co-ordinate and manage comprehensive project team of specialists needed in the planning stages of subdivision.