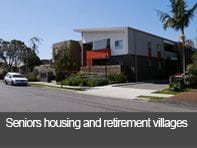 Recent Projects:
Penshurst Residential Aged Care Facility
The development of suitable housing for seniors in NSW is a critical concern for the government and communities. TPG NSW provides the support necessary to create living environments that deliver both resident and developer satisfaction.
Town planning legislation applicable to seniors housing and retirement villages is complex and covers rules and guidelines for each type of seniors housing relating to zoning and permissibility, site compatibility, standards of development, access and design requirements, and associated design guidelines.
In such a heavily regulated environment, successful project delivery requires a thorough understanding of planning instruments and design standards combined with an innovative and creative approach to design.
TPG NSW's advice covers the full spectrum on planning and design services including:
Development planning and assessment services for seniors housing including preliminary advice on key planning and design issues and documentation associated with Development Applications (DAs), as well as the preparation of the DA's Statement of Environmental Effects (SEE);
Site compatibility certificate applications and supporting planning reports;
Due diligence planning advice to assist in assessing feasibility of seniors housing development projects and suitability of development sites;
Stakeholder consultation and engagement including negotiation with planning authorities;
Project planning management services to co-ordinate and manage comprehensive project team of specialists needed in the planning stage of development applications.