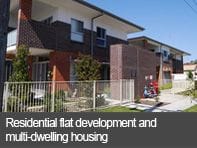 Recent Projects
Nelsons Ridge and Holroyd Gardens
Western Sydney Parklands Bungarribee Precinct, Doonside
With the Sydney Towards 2036 discussion paper setting out the key concepts of the Metropolitan Strategy and in particular the need to accommodate a growing population while containing Sydney's urban footprint, the number of residential flat buildings and multi-dwelling housing developments in inner Sydney suburbs is expected to increase significantly.
TPG NSW has been involved in a variety of residential projects, ranging from DAs for alterations and additions to multi-storey residential flat buildings around Sydney right through to large residential subdivisions. We employ an integrated approach that identifies key planning and design issues associated with the site and surrounding area to ensure your project has the best potential for success.
Combining our vast experience in residential flat developments and multi-dwelling housing with a thorough knowledge of the relevant planning instruments including SEPP 65 and the associated design guidelines, TPG NSW has the expertise to provide practical solutions to achieve your desired results.
TPG provides:
Development planning and assessment services for residential flat and multi-dwelling developments including preliminary planning advice on key planning and design issues and documentation associated with Development Applications (DAs), and preparation of DA Statement of Environmental Effects (SEE).
Due diligence planning advice to assist in assessing feasibility of residential flat building and multi-dwelling development projects and suitability of development.
Subdivision design.
Stakeholder consultation and engagement including negotiation with planning authorities.
Project planning management services to co-ordinate and manage comprehensive project team of specialists needed in the planning stage of development applications.