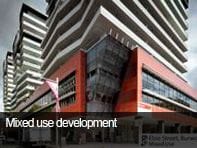 Recent Projects
Elsie Street, Burwood Mixed Use Development
Kiaora Lands Redevelopment, Double Bay
The planning of mixed use developments, comprising a single building or sites accommodating several uses such as residential, hotel, commercial, industrial, entertainment, education, medical or recreation, are becoming more common. Decreasing availability and the increasing cost of land, soaring fuel costs and the desire of people to live nearer to their workplaces, are instrumental in promoting mixed used developments.
TPG NSW understands the opportunity for mixed use developments to deliver higher yields, spread risks, generate synergies between complementary tenants and attract potential purchasers from a wider variety of market sectors. There are also a range of environmental benefits such as lower car dependency and the incorporation of new, environmentally efficient materials and designs.
However balancing these benefits with the practicalities of mixed use development such as the need for appropriate separation of entrances, pedestrian and lift access, and practical solutions for everyday disturbances to residents, requires complex and creative design.
The Planning Group NSW has advised on many mixed use developments and has the necessary knowledge of planning instruments and design requirements to deliver optimum project outcomes.
Our services include:
Development planning and assessment services for mixed use developments including preliminary planning advice on key planning and design issues and documentation associated with Development Applications (DAs), and preparation of DA Statement of Environmental Effects (SEE).
Due diligence planning advice to assist in assessing feasibility of mixed use development projects and suitability of development.
Stakeholder consultation and engagement including negotiation with planning authorities.
Project planning management services to co-ordinate and manage comprehensive project team of specialists needed in the planning stage of development applications.