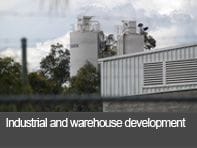 Recent Projects
Huntingwood West Industrial Estate, Blacktown
Industrial and warehouse developments are important to the functioning and performance of the economy and as a generator of employment, with particular design requirements and environmental management issues that need to be addressed in planning stages.
The planning issues include large land holdings and building structures, heavy vehicle transport infrastructure, access and loading requirements, ancillary office space and use requirements and a range of environmental management issues relating to landscape and streetscape amenity, noise, air quality, water quantity and quality, chemical use and hazardous materials.
TPG NSW is well qualified to assist in the planning of industrial and warehouse zones and development projects. We understand government statutory planning requirements as well as the commercial drivers, and can provide the following services in the planning and development of industrial and warehouse precincts:
Strategic planning and urban design services in the preparation of strategies and masterplans, planning proposals and rezoning applications, and draft statutory planning instruments and design guidelines for industrial and warehouse precincts
Development planning and assessment services including the preparation of development application documentation
Due diligence planning advice to assist in assessing suitability and feasibility of development projects
Community and stakeholder engagement which may include notifications, public information sessions and exhibitions, workshops and meetings, consultation and negotiation with planning authorities, and review of public submissions and
Project planning management services to procure, co-ordinate and manage comprehensive project team of specialists needed in the strategic planning of industrial zones and in the planning stages of development applications.