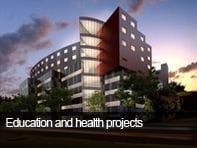 Recent Projects
Wollongong Private Hospital Development
TPG NSW has had considerable experience in the planning and development of education facilities and health infrastructure. We are well qualified with a detailed knowledge of relevant government planning legislation and statutory instruments and are attuned to the particular planning and design requirements of education facilities and health facilities.
Key planning issues for education facilities include a site layout with a campus environment with different connected functional buildings and well defined internal and external spaces for teaching, recreation and sports, assembly, administration, student accommodation, vehicle and pedestrian/disabled access, pick-up/drop-off zones, safety and security.
Key planning issues for health facilities include site planning and layout of building forms and uses, internal and external spaces, access linkages and connections, IT, infrastructure and microclimatic requirements, vehicle and pedestrian/disabled access, and parking and service delivery requirements and waste management.
TPG can provide the following services in the planning and development of education and health projects:
Strategic planning and urban design services in the preparation of strategies and masterplans, planning proposals and rezoning applications for social infrastructure projects including education and health.
Development planning and assessment services including the preparation of planning documentation such as a review of environmental factors or development application statement of environmental effects.
Due diligence planning advice to assist in assessing suitability and feasibility of projects.
Community and stakeholder engagement which may include notifications, public information sessions and exhibitions, workshops and meetings, consultation and negotiation with planning authorities, and review of public submissions.
Project planning management services to procure, co-ordinate and manage comprehensive project team of specialists needed in planning stages of projects.