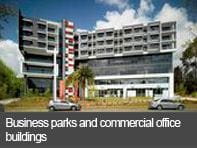 Recent Projects
Commercial office building, Coward Street Mascot
Investors, developers and tenants are increasingly demanding commercial buildings which are environmentally sustainable, provide a comfortable and healthy environment and healthy financial returns. With climate change and energy issues at the forefront of the political and public agenda, improving the energy efficiency of commercial buildings is an achievable and beneficial objective for both government and industry.
Through our involvement in a variety of business parks and commercial office building developments, TPG NSW understands the importance of building flexibility and of finding the balance between sustainability and financial viability. Innovative, high quality design is the key to creating high performance, cost effective, energy efficient and sustainable commercial buildings.
This knowledge and experience will ensure that your business park or commercial project has the best chance possible of achieving your desired outcome.
Our services include:
Development planning and assessment services for business parks and commercial office developments including preliminary planning advice on key planning and design issues and documentation associated with Development Applications (DAs), and preparation of DA Statement of Environmental Effects.
Due diligence planning advice to assist in assessing feasibility of business parks and commercial office development projects and suitability of development.
Stakeholder consultation and engagement including negotiation with planning authorities.
Project planning management services to co-ordinate and manage comprehensive project team of specialists needed in the planning stage of development applications.