Wollongong Private Hospital Development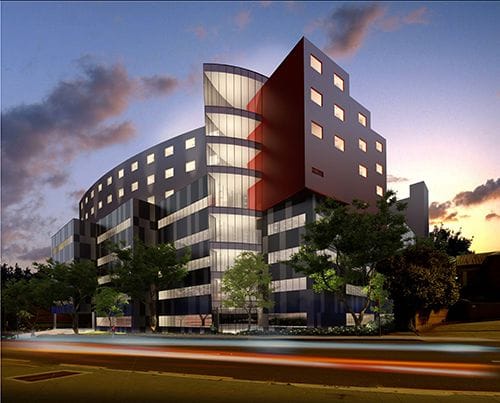 Status: Complete
Use: Hospital
Client: AA Crown Pty Ltd
The project:
TPG was engaged by AA Crown Pty Ltd to prepare an environmental assessment, preferred project report and response to the submissions (PPR and SR) for Major Project No. 07_0070 assessed and approved by the NSW Department of Planning under Part 3A of the Environmental Planning and Assessment Act 1979.
Approval was granted by the NSW Department of Planning for a new medical and health facility consisting of four major components, including 154 medical, surgical and maternity inpatient beds, an operating theatre suite (OTS) with 9 operating rooms, a central sterile stock department (CSSD) and an intensive care unit (ICU). The hospital will also be equipped with a general practice centre, specialist medical consulting suites, a University of Wollongong teaching centre and ancillary retail tenancies.
TPG's key responsibilities included design input to address challenges associated with the existing site, to ensure a cohesive design for a hospital in Wollongong. TPG's other responsibilities included the preparation of all planning related documentation and liaison with the Department of Planning through the approval process to ensure a good outcome for the client and future patrons of Wollongong Private Hospital.