Port Stephens Waterfront Masterplan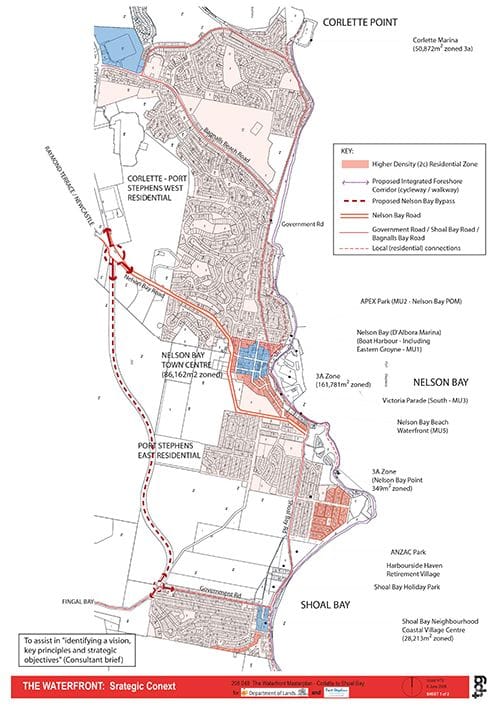 Location: Corlette to Shoal Bay
Status: Complete
Use: Commercial and residential development
Client: Department of Lands and Port Stephens Council
The Project:
TPG was appointed by the Department of Lands (NSW) and Port Stephens Council (NSW) to prepare a place based foreshore Masterplan ("The Waterfront Masterplan") to guide the future use and development of approximately eight kilometres of Crown and community waterfront land along the southern Port Stephens foreshore extending from Corlette to Shoal Bay. The waterfront consists of a number of unique precincts that have current and future potential to provide a range of recreational and tourism related experiences and in doing so, contribute to the social and economic?development of the local area.
The plan will guide the future development of each precinct as funding is identified and redevelopment works unfold. The Masterplan seeks to strike a balance between the essential environmental, landscape, cultural and recreation values of the waterfront and the need for the sustainable commercial activity nodes that can assist with the economic development of the waterfront and its ongoing maintenance.
The plan was prepared with the assistance of a community reference group consisting of residents, business and State Government agencies. The plan made recommendations to establish a series of destinations each with its own purpose and role.
The bulk of the project area was a variety of reserves and gaining a complete picture of land tenure and their encumbrances was challenging, and important for understand the possibilities for future improvement and development. Another issue was that the community is naturally protective of foreshore reserves, but eventually came around to seeing the benefits in developing some areas of the foreshore if it provided opportunity for enhancement of other areas.
For more information about this project, contact Sonny Embleton.