North Orange Woolworths Neighbourhood Centre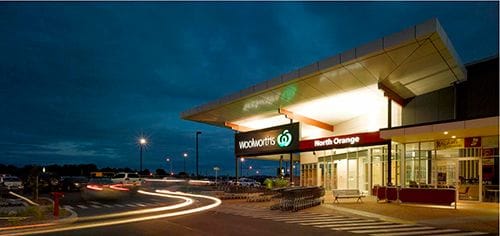 Location: 9 Telopea Way, North Orange NSW
Status: Complete
Use: Full-line supermarket and specialty stores
Client: Fabcot Pty Ltd
The Project:
TPG was engaged by Fabcot to provide planning services for a new Woolworths neighbourhood centre to be anchored by a Woolworths supermarket, which would support the new and expanding residential neighbourhoods of North Orange and Bletchington, providing for local needs without impacting the existing Orange CBD.
The new centre, which opened in December 2011, realized the culmination of a process which commenced in 2006 with Council endorsing the site selection in 2007, rezoning to enable the project to occur in 2009 and the Joint Regional Planning Panel granting approval in 2010. The centre provides for a 3,200 square metre full-line supermarket and 1,500 square metres of specialty shops with diverse occupants.
TPG's key responsibilities included design input to address challenges associated with the existing site, to ensure the design of a supermarket and anchor for North Orange. TPG's other key responsibilities included the preparation of a Statement of Environmental Effects and liaison with the Council throughout the approval proves to ensure a good outcome for the client and the residents of North Orange.