Bankstown and Camden Airport Master Plans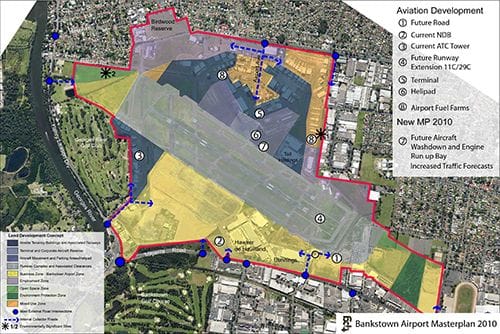 Location: Bankstown and Camden Airport
Status: Complete
Use: Airport Masterplans
Client: Bankstown Airport Limited (BAL) and Camden Airport Limited (CAL)
The Project:
TPG NSW provided consultancy services for the review of the Bankstown Airport and Camden Airport Master Plans and Environment Strategies in 2009-10. TPGNSW were appointed by Bankstown Airport Limited (BAL), in March 2009.
The then existing Master Plans for these airports were approved by the responsible Minister on 10th March 2005. Both the Master Plan (MP) and Airport Environment Strategy (AES) for both airports have a strategic period of 5 years. Consequently the MPs and AESs were required to be lodged with the Federal Minister for Infrastructure, Transport, Regional Development and Local Government by 8 February 2010.
Both MPs and AESs were lodged with the Minister by the due dates. Both AESs were approved by the Minister on 10 May 2010. The MPs are awaiting the Minister's determination following the provision of requested further information.
The Master Plan and Environment Strategy reviews addressed the following key issues:
BAL's objectives for Bankstown Airport in the 2005 Master Plan, BAL's aviation and commercial aspirations and the Minister's position on jet operations at Bankstown Airport and capacity in the Sydney Basin, by early discussion with the Department and resolution with BAL.
Adoption of agreed relevant elements of the Green Paper into the process and management of the impact of the proposed timing of the White Paper release and content on the program
The relationship with AirServices Australia (AsA) and AsA's accreditation protocol for noise forecasts, and its impact on the program
A close relationship with and issues management with the Department to ensure "no surprises" at the project commencement and by an "exposure draft" prior to document exhibition/submission
An early consultation process for targeted stakeholders and tenant consultation and management
Management and reporting and processes for the two airports and four documents.
TPG was committed to providing value for money with a high level of service provision and quality outputs that would be generated as a result of the project. The nominated project team ensured effective use of time and appropriate "presence" and applied broad and relevant experience, including a thorough understanding of the Airports Act 1996 and the requirements for the preparation of the Master Plans and Environment Strategies.